from The Independent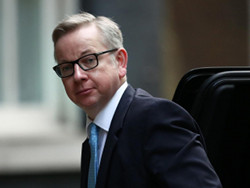 Successful prisons could take over failing ones as part of wide-ranging reforms of the criminal justice system, the Justice Secretary has said.
In a policy bearing strong similarity to his school reforms during his time as Education Secretary, Michael Gove detailed his plans to allow governors greater powers over what went on in their own jails, and use their expertise to lift up failing ones.
Mr Gove said he had been told by prison inspectors that the most effective penal institution was one in Colchester run by the military, where the commanding officer had wide-ranging powers to order what went on, and offer incentives to inmates for good behaviour.
The military correction training centre focuses on rehabilitation and has a reoffending rate a third of that of its civilian counterparts.
"If prisons aren't performing well, they could be in a position where stronger prisons operate as their improvement partner in the same way as has been seen in schools, or the NHS with strong foundation trusts taking weaker ones under their wing," Mr Gove told MPs on the Justice Select Committee.
David Cameron last month criticised the "scandalous failure" of the prison system to rehabilitate criminals, promising greater powers for governors and to publish new league tables to grade how jails performed. It followed Government figures that showed that 45 per cent of released adult prisoners went on to commit further crimes within a year.
The league tables would include data on the educational achievements of inmates behind the walls and the success of getting them into jobs rather than returning to crime, said Mr Gove.
He also said there would be "dipstick measures" of prison performance, including those detailing the number of hours that inmates spend out of their cells.
Mr Gove also detailed his broader plans to allow groups of prisons to be led by an executive governor.
The plan draws on his experience in the education sector, when he promoted academies with greater power to run their own affairs.Andrew Neilson, head of campaigns at the Howard League for Penal Reform, said: "We welcome the idea of giving governors more autonomy. We think the prison service has been overly centralised in the past."
But he said that reforms were essentially akin to shuffling deckchairs on the Titanic while the prison population remained too high. There are currently 86,000 people in prisons and young offender institutions in England and Wales.
—
Watch the Secretary of State for Justice explain prison reform to the Justice Committee.